About WCC / Contact
Hello,
Foreign capital is absolutely critical to Japan's economic growth. Non-residents are prominent shareholders in many Japanese companies, and the Japanese government has committed to increasing the number of foreign holders of government bonds. The current administration has also set a goal of increasing the number of foreign visitors to Japan to 20 million by 2020.
That said, too often timely, accurate information on Japan is unavailable to non-Japanese. I started World City Communications with the goal of sharing Japanese analysis, primarily economic but in other fields as well, with a wider audience. By doing so, I hope to contribute to Japan's economic growth by promoting more active foreign investment in Japan . At the same time, Japan can offer insights from its own economic and development experiences that are highly relevant beyond its own borders, as we have witnessed with the recent global financial crisis.
My own experience with Japan is extensive and broad. I am a bicultural Japanese-American and have split my life nearly equally between the two countries. I have worked in both countries—at consultancies/think tanks, a government agency, and financial institutions—and have participated in economic development consulting projects throughout Japan and Asia. I also have over 12 years' translation experience.
It is the mission of World City Communications to share analysis and insight from Japan with a larger audience, and I promise to do so with superb quality and expeditious delivery. Please contact World City Communications at the link below with inquiries.
Yours,


Sandra Jun Havens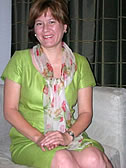 Education:
Colgate University, New York (BA, Asian Studies)
University of Hawai'i-Manoa, Hawai'i (Master's of Urban and Regional Planning, concentrating on Asian regional development)
Keio University, Tokyo (MA, Graduate School of Media and Governance, concentrating on Asian megacities)
Work history includes staff positions and consultancies with:
Japan International Cooperation Agency, Washington, DC, and Tokyo
The Kenan Institute for Private Enterprise, Washington, DC
Sanwa Research Institute, Tokyo
GE Capital Real Estate, Tokyo
Shinsei Bank, Tokyo
Mitsubishi UFJ Securities, Tokyo
For further information, contact: